Fastener Fair Stuttgart 2019: An International Trade Audience, Good Business Contacts and a Lot of Networking
The 8th Fastener Fair Stuttgart, International Exhibition for the Fastener and Fixing Industry, ended last week after three very successful show days at the Stuttgart exhibition grounds in Germany. A total of 12,070 visitors from 90 countries came to Stuttgart to discover the latest trends and products from all areas of fastener and fixing technology and to network with other industry experts. This represents a further growth in visitor numbers by 3% compared to the previous event.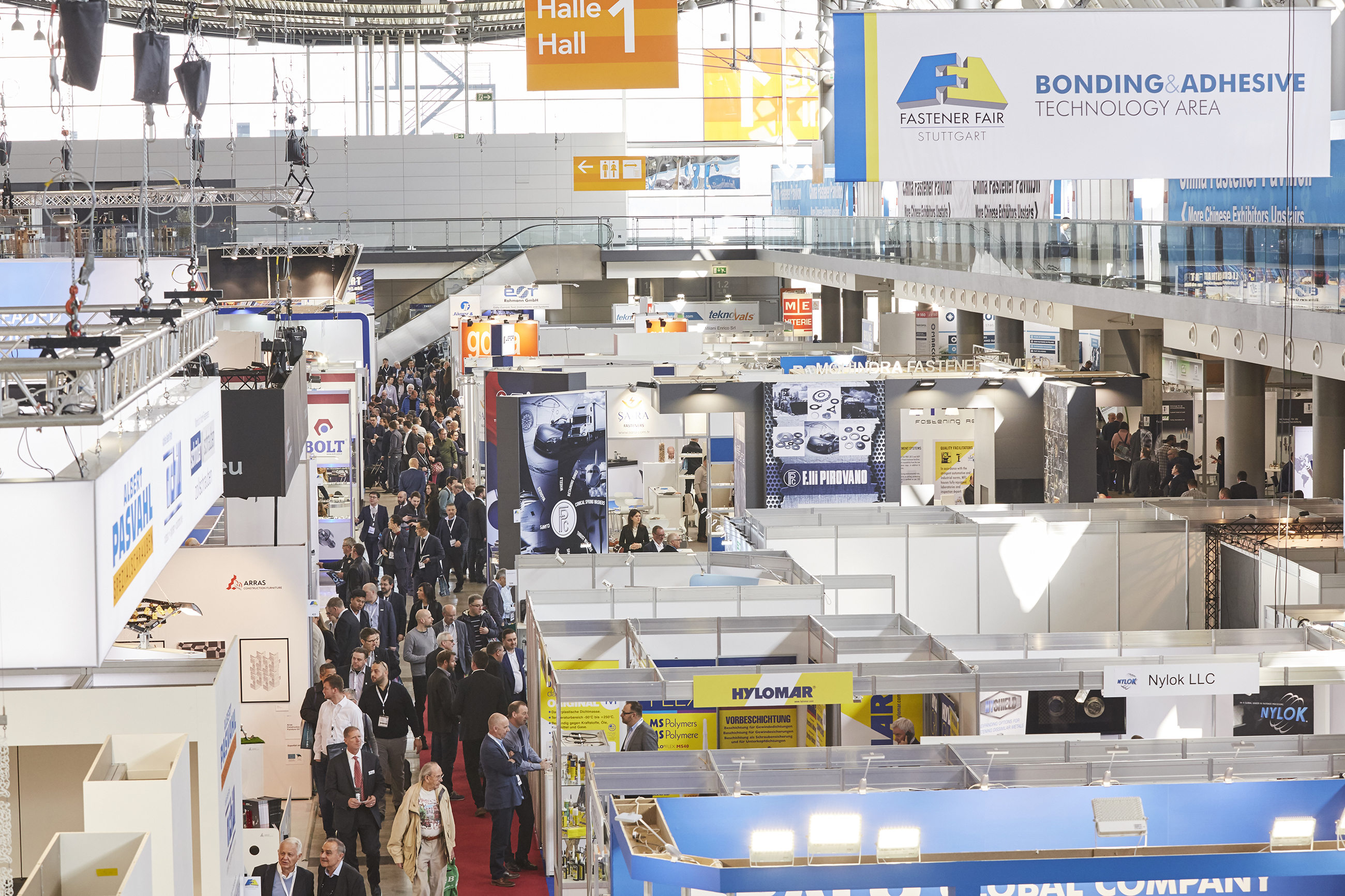 A total of 987 exhibitors from 45 countries presented the complete spectrum of fastener and fixing technologies on a total net exhibition space of 22,200 square metres: industrial fasteners and fixings, construction fixings, assembly and installation systems and fastener manufacturing technology. This represents a further increase in exhibitor numbers by around 10% and a further increase in exhibition space of 5% which resulted in the biggest Fastener Fair Stuttgart to date.
A first analysis of the exhibitor feedback shows that participating companies were highly satisfied with the outcome of Fastener Fair Stuttgart 2019. A vast majority of exhibitors were able to reach their target groups and they praised the high quality of trade visitors. Exhibitors also reported a large number of new business contacts as they showcased an enormous variety of new products and innovative solutions for the fastener and fixing industry."Fastener Fair Stuttgart 2019 was an absolute record event, in terms of exhibitor numbers and exhibition space as well as visitor numbers. There was a buoyant atmosphere on the show floor which also reflects the overall positive economic development within the industry", says Liljana Goszdziewski, Exhibition Director of Fastener Fair Stuttgart, on behalf of the organisers Mack Brooks Exhibitions. "The event was once again a very international trade fair. Around 60% of visitors travelled to Stuttgart from abroad in order to discover the latest industry trends, build international trade networks and to source new products and systems", continues Liljana Goszdziewski.
According to preliminary results of the visitor survey, around 70% of all visitors came from the EU. Germany was the biggest visitor country followed by Italy and Great Britain. Other major European visitor countries were Poland, France, the Netherlands, Turkey and Spain.
Asian visitors mainly came from Taiwan and China. The most important industries visitors came from were the construction industry, the automotive industry, distribution, mechanical engineering, hardware / DIY retailing and electrical products / domestic appliances. The majority of visitors were fastener and fixing wholesalers, manufacturers as well as distributors and suppliers.
A new addition to the show this year was the "Bonding and Adhesive Technology Area" which was exclusively dedicated to bonding solutions. Exhibitors presented their innovative bonding and adhesive technologies which are especially suitable for lightweight construction in various industries such as the automotive and electronics sectors.
During a ceremony on the second show day, the Fastener + Fixing Magazine announced the winners of this year's Fastener Innovator 2019. A total of three exhibiting companies were awarded for their innovative fastener and fixing technologies. Growermetal Srl took third place for its GROWER TENKEEP® flat safety washers introduced to the market for the first time at the show. In second place was member of the SACMA Group, Ingramatic, with its smallest threader inspired by its I-Thread concept, the Micro threader model RP020. The winner of the competition was TR Fastenings Ltd and its EPW thread-forming screw.
This year, Mack Brooks Exhibitions will again hold a series of Fastener Fairs in selected international target markets. Fastener Fair India 2019 will be held from 25–26 April 2019 in Mumbai. Fastener Fair USA will also take place this year, from 22–23 May in Detroit. From 19–20 June Fastener Fair Mexico with take place in Mexico City. Next year, Mack Brooks Exhibitions will be organising Fastener Fair Turkey in Istanbul, from 27–29 February 2020 and Fastener Fair France from 27–28 May in Paris. The third Fastener Fair Italy is scheduled to take place from 11–12 November 2020 in Milan. Further information on all Fastener Fairs is available at www.fastenerfair.com.
New exhibition dates for 2021
After considering feedback from the exhibitors it has been decided to reschedule the next Fastener Fair Stuttgart, 9th International Exhibition for the Fastener and Fixing Industry, to May just for the 2021 event. The exhibition will therefore take place from 18–20 May 2021 at the Stuttgart Exhibition Grounds in Germany.
Further information on Fastener Fair Stuttgart is available at www.fastenerfair.com/stuttgart.
Share this post: