Today we reflect on our memories of Bob Lehman, lifetime member of NFDA. He was an active contributor to our organization, and will be missed.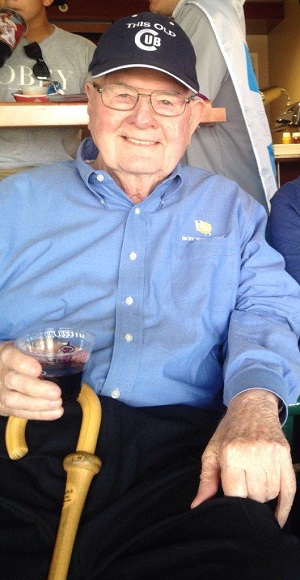 Robert (Bob) Allan Lehman, 90, of Chino Hills, California passed away on Saturday, December 29, 2018 with his family by his side.
Bob started in the fastener industry in 1956 after serving in the Navy during the Korean War. He worked as an intern for All Stainless Inc. in Boston, MA while earning his bachelor's degree at Northeastern University on the GI Bill. After graduating, he started his first sales job at Albany Products in Connecticut where he met his future wife, Joyce, who was working as the assistant to Edith Cameron. In 1961, Bob was given the opportunity to become president of a startup company called Bell Fasteners in Paramus, NJ.
During his 15 years with Bell, he strengthened the ties between distributors and suppliers as he vowed to sell through distribution only. Bob was very active in the National Fastener Distributors Association (NFDA) and the Metropolitan Fastener Distributors Association (MFDA), serving as a board member. He believed that these organizations are the cornerstone of the fastener Industry that binds the supplier, distributor, and manufacturer.
After Bell Fasteners was sold in 1976, the Lehman family moved from their home in New Jersey to
Southern California. Bob was employed as vice president of the western region for AFCOM, Inc. a fastener distributor. However, in his heart, he was always as a supplier, and he soon went back to what he knew, as the general manager of the California branches of both Bossard and Majestic Screw and Bolt.
In 1980, he decided he wanted to run his own business, and started Pacific Warehouse Sales with his wife Joyce. Their business model in the early stages was to be a stocking manufacturer's representative and a wholesale distributor. Using his contacts from his east coast days, he quickly found quality manufacturers that wanted to partner with him and become part of the PWS family. In 1985, Deb, the first of his three daughters, started with the business and shortly after, both Kelly and Tracy joined the company. Bob had his dream of having his whole family working in the fastener industry.
Bob was instrumental in starting the Western Association of Fastener Distributors (WAFD), now known
as the Pacific-West Fastener Organization. He served as secretary from 1982-1985. He continued his
commitment serving as a board member of the Los Angeles Fastener Association as well. Bob felt that
he had to give back to an industry that gave him so much.
In 1993, Bob and Joyce moved to Phoenix, AZ and he gave his girls ownership of the company. He
wanted to continue to sell, and let the girls take care of the day-to-day operations.
In 1994, Bob was inducted into the Fastener Hall of Fame. It was a great honor for him and he was
humbled by it.
Bob and Joyce moved back to California in 1999, when their two grandsons were born. Bob was the
ultimate salesman and he continued selling until the day he passed.
Bob is survived by his wife of 56 years, Joyce (Bonnie); daughter Deb Kanne and son-in-law Larry;
daughter Tracy Nelson and son-in-law Todd; daughter Kelly Lehman; grandsons Ryan and Tyler Kanne;
brother, Charlie Lehman and sister-in-law Sally; niece Katrina Lehman and her husband Derek French
and grandniece Anna French. We will remember him for his devotion to his family and his long-lasting
friendships throughout the industry.
A memorial service will be held Wednesday, January 9, 2019 at 11:30 am at the Old North Church,
Forest Lawn Hollywood Hills, 6300 Forest Lawn Drive, Los Angeles, California.
In lieu of flowers, Bob would have preferred donations to the Anthony Rizzo Family Foundation,
www.rizzo44.com. Once a Cub fan, always a Cub Fan.
The family would like you to share your memories of Bob and any stories. Please do so at bob-
lehman.forevermissed.com.
Share this post: